Dental Implant Restoration in Burke, VA
Dental implants are a great solution for patients who are missing teeth. Whether it is one missing tooth or several, dental implants have shown great success to our dental patients in Burke, VA. With a single implant, Dr. Alejandro can give a patient back their tooth without having to make a bridge. By placing several implants, even a denture can be replaced with a fixed/permanent prosthesis.
An implant is a synthetic tooth root in the shape of a post that is surgically placed into the jawbone. The "root" is usually made of titanium: the same material used in many replacement hips and knees, and a metal that is well-suited to pairing with human bone. Dr. Alejandro then creates a replacement tooth to be fixed to the post. The tooth can be either permanently attached or removable, but permanent teeth are more stable and feel more like natural teeth.
Dr. Alejandro utilizes the best materials and labs to create implant restorations, and has built relationships with the finest oral surgeons in the Burke, VA area for the surgical aspect of implant placement. Our patients have all been very happy with the results they've achieved.
Single or Multiple Implants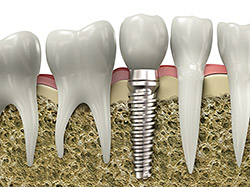 Implants are versatile. If you are only missing one tooth, one implant plus one replacement tooth will do the trick. If you are missing several teeth in a row, a few strategically placed implants can support a permanent bridge (a set of replacement teeth). Similarly, if you have lost all of your teeth a full denture can be permanently fixed in your mouth with a strategic number of implants.
Implants vs. Dentures or Bridges
Stability: Conventional bridges and dentures are not fixed to the bone, and can therefore be unstable. This can make it difficult to eat or smile with confidence. Implants not only look more natural, but feel and act more like normal teeth, with a stronger biting force.
Health: Since implants don't directly rely on neighboring teeth for support, they don't compromise the health of your natural teeth.
Long-lasting results: Bridges are only expected to last seven to ten years, even less if the supporting teeth have had root canals, whereas implants will typically last a lifetime.
Computer-Enhanced Treatment Planning
We utilize digital X-ray technology that allows us to evaluate your mouth in three dimensions for bone quality, bone quantity, and bone location. This also allows us to work closely and smoothly with your oral surgeon to ensure an ideal result where your dental implants are concerned.
Post-Treatment Care
Once your dental implant restoration is completed, it is important to keep the area clean and infection-free. Dental implants can accumulate plaque and tartar just as natural teeth can. Whether you have just one tooth replaced by an implant or several, professional cleanings at our Burke dental office will be necessary to keep your implants healthy. The time interval for these professional cleanings will be determined by Dr. Alejandro according to your individual needs.
While the ideal candidate for implants is a non-smoker who has good oral health, including a sufficient amount of bone in the jaw, and healthy gums with no sign of gum disease, the only way to determine whether or not an implant is the correct treatment is by scheduling an exam with Dr. Alejandro at our Burke dental office. We look forward to helping you achieve and maintain ideal oral health and function with beautiful, natural-looking dental implants.